It's been a while since I've shared one of my local loves. I have 3 sitting in queue that I have been looking for the time to post. So, finally I'm sharing this guy.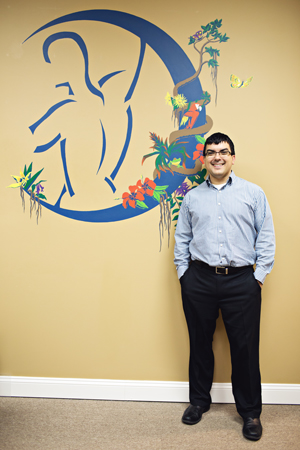 This is Dr. Dennis Da Ponte from Chiropractic Solutions in Harrisonburg, VA. If you are anything like me, personality counts for a lot when it comes to working with any doctor. There has to be trust, knowledge and respect. Luckily, I just so happen to know this guy personally and I just so happen to know that he is wonderful to work with. He is knowledgeable, easygoing, trust worthily and fun, who doesn't want to work with someone like that.
I internet stalked Dr. Da Ponte and found out he has quite the resume. I should have known by all the framed paper on his office walls (see photo below lol ;-). Here's a little bio from his website: http://www.qualitychiro.com
"Dr. Dennis Da Ponte is the Chiropractic Physician at Chiropractic Solutions in Harrisonburg, VA.  He is a long-time resident of the Shenandoah Valley, having graduated from Broadway High School in 1996.  His professional education was completed at Life University in Marietta, Georgia where he received a Bachelor's of Science degree in Biology and a Doctorate in Chiropractic on an Elective Advanced Neurology Track.  Throughout his education and practice, Dr. Da Ponte has been committed to the advancement of the Chiropractic profession.  He served as President of his class in the Doctoral Program and three other University Clubs on Campus, involved with Chiropractic technique and philosophy.  His passion for Chiropractic also inspired Dr. Da Ponte to be a regular published author in the University Student Newspaper and earned him two distinguished scholarships from the Life University Alumni Association for his writing.  Due to his academic proficiency and clinical excellence, he was awarded an opportunity to complete his Internship with Dr. Richard Rosenkoetter of Atlanta, GA, who was the Director of the Atlanta Sports Chiropractic Clinic charged with the care of the 1996 Atlanta Olympians. 
These days, Dr. Da Ponte is happy to be back serving the residents of the Harrisonburg area with the most advanced quality of Chiropractic Care. He enjoys hunting, fishing, playing tennis, golf, working out and jogging.  He is also a HUGE Washington Redskins fan!!!!"
Ha, Dallas fans…sorry. Don't hold it against him. I promise he'll give you a hard time but he'll do it with a kind smile. Dr. Da Ponte has a way with making people feel comfortable, that's probably why I like the guy so much. Not too mention he's full of information.
His practice, Chiropractic Solutions offers a variety of health care options:
Integrative Chiropractic Techniques
Diversified Chiropractic
• Most commonly used Chiropractic Technique amongst Chiropractors
Upper/Lower Extremity Adjusting
• The correction of peripheral misalignments.
Network Spinal Analysis
• System of identifying and managing spinal tension.
Applied Kinesiology
• A form of diagnosis using muscle testing to assess the neuromuscular system.
Applied Chiropractic Neurology
• System of assessing and treating functional imbalance of brain hemispheres.
Functional Movement Rehabilitation
Active Myofascial Release
• A manual, soft-tissue/movement based system for the management of acute and cumulative injuries and the restoration of proper range of motion.
Instrument Assisted Soft-Tissue Mobilization
• An instrument assisted therapy used for the treatment of soft-tissue injuries and the restoration of proper range of motion.
Functional Movement Assessment and Corrective Exercise Rehabilitation
• System of analyzing and correcting faulty movement patterns.
Whole Food Supplementation
• Nutritional consulting and Standard Process Products Distributor
He's more than just adjustments ;-). The man's got game, what can I say.
Chiropractic Solutions also offers massage therapy through The Healing Touch Wellness Spa. You can find out more about them here.
If you are looking for someone that will not only help relieve pain but who will have you walking out the door with a smile, pain free and informed, go see Dr. Da Ponte. You won't regret it. You can sit and enjoy a cushy chair message too while you wait. It's one of the only waiting room I've ever been in that I actually want to sit in.
You can schedule to meet with Dr. Da Ponte at:
540.432.5577
Address: 171-F Neff Ave.
Harrisonburg, VA 22801
Website: www.qualitychiro.com