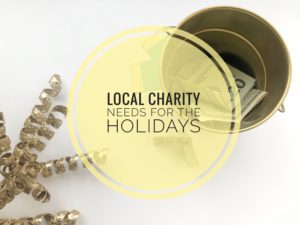 With the winter season and Thanksgiving approaching, I decided to put together a list of a few local charities that would definitely love some help from high school students, or anyone looking for some way to get involved.
Keep in mind that these are only five of MANY places to volunteer or give to, and volunteering is a great way to share some love since northern Indiana winters can sometimes be long and depressing, especially for the less fortunate.
The Window
Aiming to "provide services to meet the essential needs of anyone with limited income," they are always in need of food products (non perishable) and hygiene products. Since there are four different services being run as a part of The Window, you can find out more about their mission and how you can get involved on their volunteering page.
223 South Main St. Goshen, IN 46526
Phone: (574) 533-9680
ADEC
With many opportunities for helping out, even just paying a visit to one of their Gaining Grounds coffee shops is great because the proceeds go straight to their cause. If you are interested in putting in some more time, they are always welcoming volunteers to hang out with the clients, and mentors for younger students. They are also very flexible to work with!
19670 State Rd. 120 Bristol, IN 46507
Phone: (574) 848-7451
Elkhart Child Development Center
This is another local charity that always loves an extra hand, especially if you adore children. They are looking for people who are willing to play with the children and love on them.
Just think about how many kids' days you could make just by going in and doing stuff with them, because older kids are pretty much their superheroes. So cool.
2121 Prairie St. Elkhart, IN 46517
Phone: (574) 293-5316
The Boys and Girls Club of Nappanee
During one week in particular, December 18-21, they are in need of help with successfully putting together Christmas parties for the children, and Santa's Workshop, which is a yearly garage sale event hosted by The Club.
107 East Marion St. Nappanee, In 46550
Phone: (574) 733-5200
Syracuse Food Pantry
This organization continues to welcome generous souls to gather and unpack food donations, put together meals for people in need, and they even have a program where volunteers are able to apply to adopt a family in the community for the holidays. That just makes my heart happy, hopefully it does yours too.
203 East Main St. Syracuse, IN 46567
Phone: (574) 457-5450
Last but definitely not least,
The Humane Society of St. Joseph County
Here is the perfect place to volunteer your time if you have a soft spot in your heart for animals. These animals at the shelter are always up to play and are so happy to get special attention from volunteers. As a mom of a few fur babies, being able to give love to these less fortunate animals is so important. Sign me up!
2506 Grape Rd. Mishawaka, IN 46545
Phone: (574) 255-4726
Hopefully these charities inspire you to do something cool for your community. Last spring, the MY Girl Street Team even got to put on their annual fashion show that benefitted a local Children's charity!