As Misti's Social Media Manager, I (Jen) have seen many Senior Session shots(say that 5x fast). It was an entirely different experience, however, when I found myself the mom of a senior and tagging along on her shoot. So here is Jocelyn's session from my perspective…
We arrived at Misti's for H&MU by the talented Kerri Trapp at 2:00.  We went over some of the outfits and Misti decided what order each would be worn in and at what location. I obviously know Misti but had never had a first row seat to see her at her craft.  It was really eye-opening to see all the thought that went in to a senior shoot.  I was really impressed already and the day was just getting started.
After H&MU we all loaded up (Jocelyn, her 2 friends Makenna and Hannah, Jocelyn's 6 week old sister Sophia and me) to head to the first location which was an hour away in Huntington.  Jocelyn had found this great Sunken Garden online and Misti went to scope it out prior to the shoot to be sure the lighting and everything would work and thankfully it did.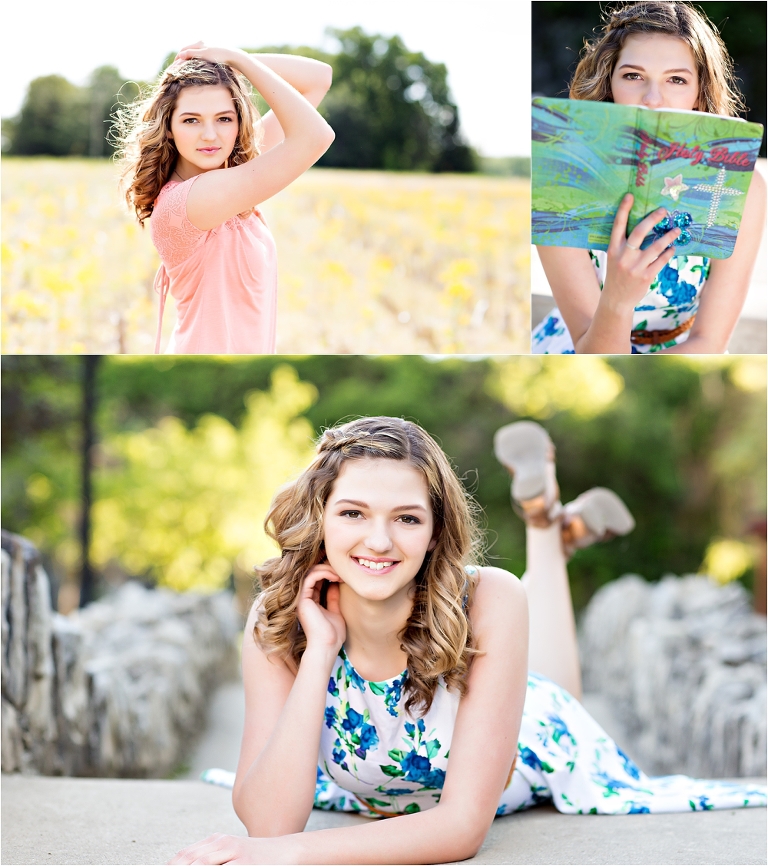 Misti spotted a great field of yellow flowers on the way down to Huntington.  We were lucky because it was only the end of May and not very many wildflowers had come out yet and a lot of fields were flooded. The unlucky thing was the wind!  It had to be gusting 20-30mph.  Pictures are taken with the sunlight behind you for that pretty glow but that was the direction the wind was coming from so Jocelyn's hair would blow straight in her face.  Belle came along as Misti's assistant and the poor thing was trying to hold up this light reflector thing and I was truly afraid she was going to go airborne while holding it.
Jocelyn is very involved with her youth group at Grace Community Church and as a Christ-follower she definitely wanted that represented in her Senior pics too.
The Sunken Gardens were amazing! The gardens had 2 stone bridges over water, a gazebo, a stone tunnel and stairs surrounded by 30ft high walls that are covered with ivy and moss.  When we arrived, Misti popped this tall, skinny tent up and Jocelyn just stepped in and did her outfit change right there.  Genius. Then Belle just folded it up, stuck it in this wagon with all of our other stuff and off we went.  I was surprised by all the little details that go into each shot- 'Lean a little at the waist', 'Chin down slightly and out', 'Shoulders forward an inch and relax them'.  You wouldn't think those things would make a big difference but they did. And that light reflector thingy I talked about earlier makes the eyes just come alive and sparkle.

I loved all the variety in the shots she was taking. Not only with poses and backdrops but also that each shot had a full smile, half-smile, serious face.  At the same time I was thinking,"Crap.  I am going to fall in love with all these pics."  Which I did btw 😉
Daylight was fading fast and we had another shoot location that Misti had spied while exploring Huntington the previous week.  Jocelyn wanted some picture on a road that she had seen on pinterest.  This of course presents some challenges because, you know, you don't want to get run over.
Can I be really honest?  When we first pulled up we were not sold on this road.  It wasn't a road that was used anymore.  Just some gravel tracks by a field. We thought Misti might not be thinking clearly on this one.  Luckily she proved us wrong!  These ended up being some of our favorite pictures of the entire shoot. This is why we are not photographers and she is 🙂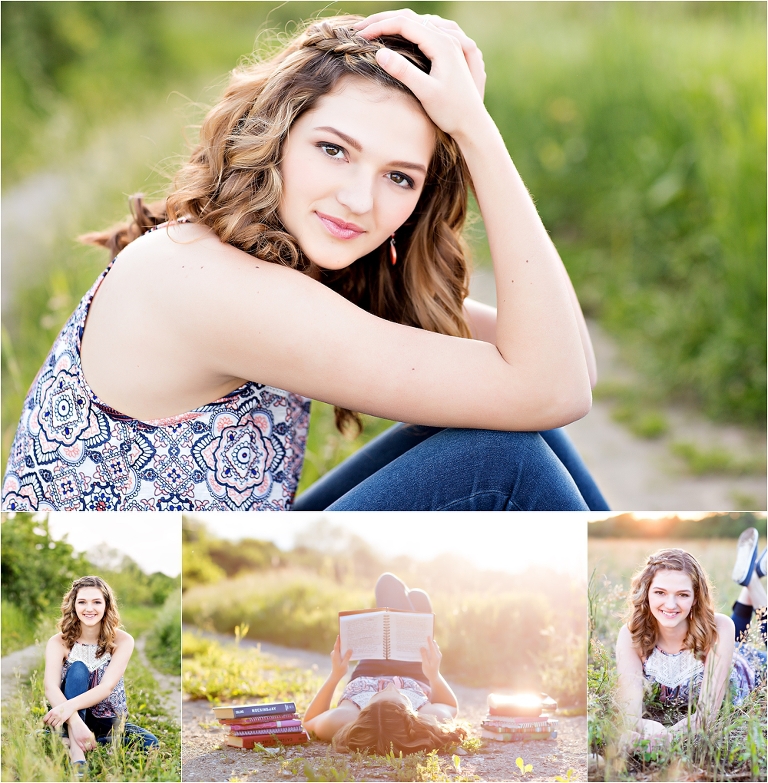 Jocelyn loves to read and wanted to incorporate that into a shot.  We fell head over heels with that gorgeous lighting.
Just as the the sun was giving off the prefect light some clouds suddenly rolled in.  Boooo. As we called an end to the day and we were going to leave, the clouds parted and the sun came through!  Everyone jumped out of the vehicles and ran back to the field lol Misti started snapping away again.  As you can see by the bottom right shot, it was totally worth it.
Jocelyn said she felt glamorous during her senior session.  It was truly a wonderful experience for the both of us. It was a bit surreal to see my once baby girl all grown up and beautiful.  It really hit me as I watched her.
I am so immensely proud of Jocelyn, not only for graduating high school early at the age of 15 but for what a Godly, caring, young women she has become.  She already has her own at home cupcakery business (Babycakes Bake Shoppe) and is looking forward to attending Ivy Tech next fall to get her Pastry Arts Degree and then opening up her own bakery shop in a storefront after that.
Congrats, sweetie, on being in the Class of 2017!  You're faith, hard work and dedication never cease to amaze me and I know you can accomplish anything you put your mind to.
And to you Misti, thank you so much for making this milestone so special and magical for Jocelyn and all the seniors you shoot. You go above and beyond and your eye for detail and the hours that go into planning and executing these sessions does not go unnoticed. You are truly gifted and an all around wonderful lady.
Want to know more about Senior Sessions? Go here for more info.